What a week…. and NOT in a nice way either! I've been completely absent from the blog comments, and even missed posting anything on Thursday. To say that this week was chaos was an understatement! It started off not too bad. Work was productive and I was completely immersed in re-watching Game of Thrones from episode one. I'm currently halfway through season two and loving this show more and more with every episode. Because of that – I didn't read. Then, the weekend happened…… and all hell broke loose! My husbands power steering went on his truck. Our plumbing was blocked and it took a couple days to get anyone here….. in the meantime, we couldn't use our toilets. Saturday the power went out for over 6 hours….. which caused my parents basement to flood and we had to pull a generator out as soon as the plumber got here so he could use his tools. Then the towns arena caught on fire. To top it all off, Saturday was my son's 9th birthday and then there's something rattling in the front of my car. Oh…. and did I mention that all of this happened while I was also going down on my dosage on anxiety meds so I can wean myself off them and switch to a different med? Yup. That happened too….. if there was ever a time to swear off of being an adult…… now is the time!
BOOKS I'VE FINISHED THIS WEEK: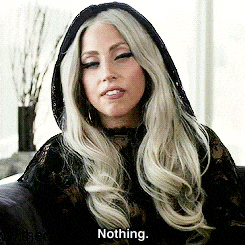 Like she said, NOTHING! Big fat nothing. This is the first week of 2019 where I haven't finished a book. If you're wondering why, reread the last half of the above paragraph….
BOOKS I'M CURRENTLY READING:
I'm about 1/3 of the way through this and I'm loving it!! The most interesting experience of this book so far? Knowing the author and being able to send her a message when you're really pissed off about a character death!! Damn you Lorraine!!! I'm still not over it! I hope to finish this one really soon!!
OTHER BOOKISH NEWS:
TOP 5 TUESDAY:
This weeks topic was the Top 5 Mind Blowing Mysteries and Thrillers! These lists were SOOOO helpful for me! My TBR grew so much as I took your advice on ones that you love. I hope that I can start to grow my TBR pile soon! Also, the TOPICS FOR MAY WILL BE RELEASED TOMORROW!!!!
IF YOU LIKE THIS – RECOMMENDATION POST!
This week, as I struggled with the chaos, I used the time to decompress and do one of my favourite posts to do – If You Like This Then….. recommendation post! This week I recommended and compared two adult fiction with elements of science fiction. Both of these are very character drive and had some SERIOUS surprise elements! If you haven't caught this post before, or if you want more recommendations, click the "If You Like This Then….." link at the top of every page 🙂
HAULS, WRAP UP'S, AND TBR'S – OH MY!
Cheesy I know. Sorry (not sorry). It's the end of April so that means the usual haul, wrap up, and TBR posts are coming. In my wrap up I will be admitting defeat……. keep an eye out for these within the next few days!
That was my week from hell. How I managed to handle all that stress and not lose my mind crying is beyond me. But it's seemed to have crushed my drive for anything. I'm so mentally exhausted every day that I can't muster the drive to pick up a book. I'm really hoping that the next week brings my reading mojo back!!
Until next time, happy reading!