Welcome to the first ever monthly favourites post! This isn't 100% book related but I hope you enjoy it. I really like it when my favourite youtubers talk about the things that they're currently loving. It doesn't have to be related to the things that I follow them for either! I find that it helps me learn more about them as people (which is also my goal here today too!) but I like that it keeps me up to date on new things I wouldn't have heard of otherwise AND that it gives me a real life review/thoughts of products! I hope that you enjoy this post and let me know if you want me to continue with these on a monthly basis 🙂
The first thing that I'm going to mention is basically the reason for this post. And that is – BILLIE EILISH! How have I not heard of her before!?!? I was driving around with my daughter the other day and the song Bury A Friend came on the radio. I was mesmerized and that damn song hasn't left my head since! I immediately checked out her songs on iTunes and fell even more in love. This song has invaded me and won't leave! The video is also creepy as hell so it's right up my alley!
The second thing on my favourites list: FROZEN YOGURT! Ok, I don't care if my love of frozen yogurt makes me basic as hell – this stuff is life! The ice cream store in town is seasonal and closes for the winter. It just opened a couple weeks ago and that was my first order. I've been going to the same store since I was 2, getting the same frozen yogurt – strawberry and pineapple. This place opening means that summer is coming!!!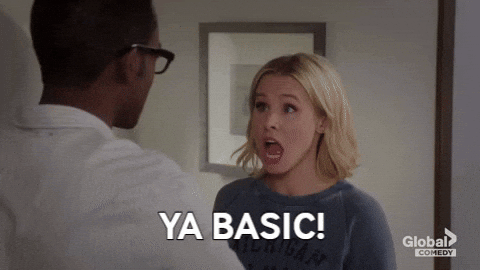 The third thing on my favourites list is an item that I splurged on big time. I've always admired people who knew how to do their makeup. I've sadly never been that person though! It wasn't until my 13 year old daughter made her makeup look like it was professionally done when I took a step back and said "step up your game dumb ass!" Its sad that I never knew how to do make up properly until I had my kid teach me. So I bought a Morphe pallet from Sephora and I have to say that I'm really proud of myself! It's got really warm tones and some sparkle 🙂 I tried to add a picture of the pallet but for some reason the picture won't load. So I'll leave you with this GIF…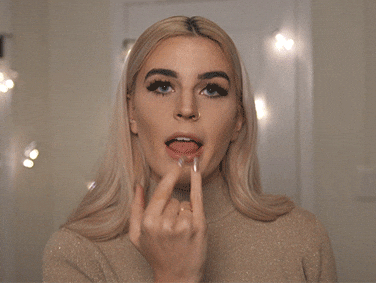 My last and final favourite for the month is actually book related!! It's Apple Airpods…… you're thinking "Bitch! Airpods are NOT book related, so check yourself!". But wait! They are! I've had them for a while now but I've been listening to a lot of audiobooks lately. I LOVE that I'm not fighting with a cord while I'm working or cleaning!! I've found that I've listened to a lot more audiobooks since I got them 🙂 But over the last few days, it's been non stop Billie Eilish songs!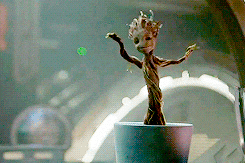 Those are my favourites for the month! I went into this post thinking it was going to be all about my excitement of things – but really, it just turned into an excuse to use GIF's and I'm not sorry about it! What are the things in your life that you're loving right now?
Until next time, happy reading!